&@#$^!*
This is the kind of thing that almost makes me curse out loud.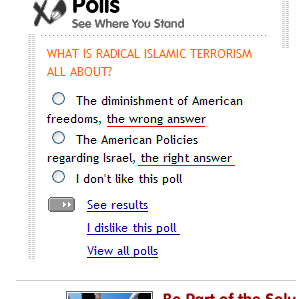 What kind of thinking makes you put RIGHT ANSWER and WRONG ANSWER on a poll question? (I underlined it for emphasis) Personally, I choose "I don't like this poll."
I guess this takes push polling to a whole new level...
Incidentally, I found this while following some links I got from a Boots and Sabers article about a man trying to defend his home.
Posted by GEBIV at December 10, 2004 09:33 PM