Mini Mouse
I was in Office Max earlier today, (Had to pick up some ram for the office computer. It's got more memory than my 5 year younger laptop, but still only works about as fast as a union employee leaning on a shovel. But that's the only computer some of the older folks in the family can use, so we keep fixing it.) and I saw the coolest little mini retractable mouse.
Now, normally I'm not the kind of person to impulse buy ...who am I kidding? I almost bought an inflatable raft the last time I was in Sam's Club. But I did manage to talk myself out of that one. (The creek was running too low for decent white-water rafting. Not that it's ever really white, but sometimes you can get some pretty good brown-water rafting.)
Anyways, I did buy it, and it works just great! The best part was the little velour satchel that it came with. Not that the bag was why I bought the mouse. But since it was hidden in the packaging, it was a nice surprise when I found it.
Oh yeah, it's optical too. I hate having to clean the rollers in a traditional mouse. And I will never buy one again.
UPDATE: Since the link doesn't work, (Who knew you couldn't link directly to a catalog page at Office Max?) here's a picture of the mighty MiniMouse sitting next to my Dad's wireless mouse. Also included is my left palm, for even worse size comparison. (I have those freakishly short fingers, dont-cha-know.)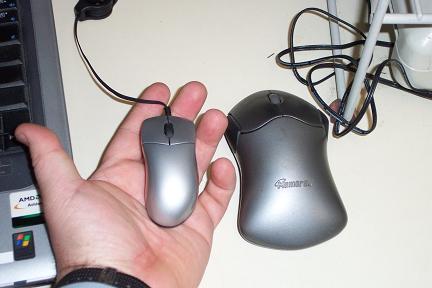 Posted by GEBIV at April 26, 2005 05:03 PM