Filthy Lie: What is Evil Glenn Looking At?
I was in the back yard, raking up the grass cuttings. I looked over at the still covered pool and thought Almost time to open that up. I'll have to get my blogless brothers over to help with that.
Just then, out of the corner of my eye, I noticed a dark object heading straight for me. I ducked and covered my head with my arms as I realized that it was a pigeon. At the last second, it swerved. Narrowly missing me. It circled around and landed on the fence nearest to me. When I tried to shoo it away, it just sat there with one claw held out to me. It only took me a couple of seconds to notice the cylinder strapped to the bird's leg. Cool, I thought, a carrier pigeon.
With only a small amount of squawking, the bird allowed me to remove the note from his foot. Too caught up in the novelty of receiving a letter by carrier pigeon, I unfolded the paper and read the message with no qualms.
'Agent GEBIV, attached, is a picture of Evil Glenn.
Your mission, should you choose to accept it, is to determine: (1) What is Evil Glenn Looking at in this picture? And (2) What, if any, is the caption for the picture? Unfortunately, due to the laziness of the Alliance Director of Personnel, no Alliance assistance will be available to help you. As always, if you are discovered, we will disavow all knowledge of your actions. So don't get caught.
'The picture will not self-destruct, to allow you to use it in your assignment. However, the message will self destruct in 5 seconds.'
As soon as I read those words, I crumpled and threw the paper as hard as I could over the fence. Unfortunately, the pigeon, perhaps thinking that I was sending a reply to the message it had just delivered, swooped down and caught it, inches from the ground. It started flapping hard, and was just about up to head height when it disappeared in a large detonation.
As the feathers slowly drifted to the ground, I realized that it was once again time for another…


MISSION: IMPLAUSIBLE!
(Cue Theme Music)
I called blogless brother Culbrez as soon as I could get to my phone. I figured that this mission was going to require some serious computer hacking, and he was, of course, my first choice for anything requiring computers.
'Culbrez, I need you to do some computer hacking. Are you at home?'
'Umm… No.' Uh oh. This doesn't sound too good.
'Where are you?'
'I'm not sure. I went out for a pizza and kind of got lost.'
Oh well. 'Do you have your laptop with you?'
'Of course.'
'Good. I need you to hack into Evil Glenn's computer. I have a picture here of him, and I need to know what he was looking at when it was taken.' I fed the picture of Evil Glenn into my fax machine. 'You should be getting it in a second or two.'
'Got it.' He said. 'But there's a problem. I've already accessed his computers and I can't find any pictures or notes on them. The only references I have to pictures are some records of burning CDs. I think he copied them and wiped everything from his hard drive.'
Just great. I knew that this would mean another trip into Evil Glenn's fortress. My blogless brother had the same thought.
'Have fun storming the castle.' He said. 'When you get in, just pop the CD into his computer and I'll be able to find what you're looking for.'
As I hung up, I thought over what would be needed in order to break into Evil Glenn's fortress. I didn't want to break in the same way as the last time. I was sure that I couldn't get in that way anyways. With Slinky the Wonder Ferret visiting his parents for their anniversary, I wouldn't be able to get by the Attack Rabbits.
Then I had it. I would make an amphibious assault. I called up the plans for Evil Glenn's fortress. (My blogless brother had downloaded them onto my computer on a previous mission.) It was there, just like I remembered. The drain from his dungeons emptied directly into the bay his castle was built above. With just a little work, I would be able to get inside undetected.
This time I was going to have to get the help of my other blogless brother Mike. He has the most diving experience in the family and I would probably be able to bum a free tank full of air off of him. After talking with him for about 15 minutes and outright lying to him for over half of that, I had convinced him to help me.
We met at his house and then drove to a little cove just down the coast from Evil Glenn's fortress. I double-checked the equipment, making sure that all of the electronics were well waterproofed. And then, I put on my mask and followed my other blogless brother into the icy water. (Thank God for 6mil wet suits.)
In minutes, we were at the grill covering the mouth of the large conduit. Working with a pair of magnesium cutters, we had an opening in only a few more minutes. Then it was a slow careful swim up the pipe to the heart of Evil Glenn's dungeon.
We met with no troubles along the way, and we silently climbed out of the dunk pit the waterway had connected to the bay. From there, it was a short climb up the central stairway to Evil Glenn's computer center. (I guess he likes to keep all of his hobbies close together.) Along the way, I did hear what sounded like the sound of hundreds of underpaid illegal immigrant Chinese computer workers. But I couldn't locate the source. Besides, that wasn't my mission this time.
As soon as we entered the computer workroom, my other blogless brother and I split up, searching for the CDs that we hoped had the information that we needed. After a half hour of fruitless searching, my other blogless brother finally found a large case containing hundreds of CDs. We fed them into Evil Glenn's massive CD changer and I called up blogless brother Culbrez on the HFMP (Hands-Free Mobile Phone) as the changer spun up.
'Culbrez, we're loading them up.' I told him.
'Got it,' he said. 'I found his personal photo album and I'm cross referencing self portraits right now.'
Seconds later he had what we were looking for. 'OK, the file says that this picture was take of Evil Glenn as he was previewing the new Subway ™ high energy sandwich. Here's a picture of it:'
He put the image up on the screen of the terminal where I was sitting.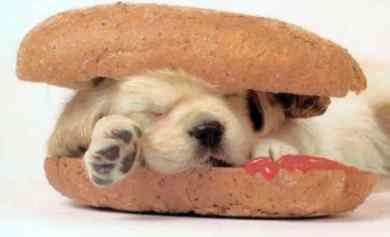 This was just too vile to believe it could exist. But, knowing Evil Glenn culinary tastes, I could see why he would be so enamored with the concept.
'Oh, and there is a caption too.' He added. 'Just one word though.
"Indeed"
'I wonder what that means?'
Before I could formulate an answer, I heard Culbrez say, 'Hey, what's in this file marked "Penguins?"' And then screams of 'My eyes!!! They burn!!' and the sound of thrashing and a desk being kicked over, followed by what sounded like the sound of him crashing into a wall. Head first. Over and over...
Just then my other blogless brother came screaming back into the room. While I had been talking to Culbrez he had wandered, unnoticed, into Evil Glenn's bedroom. What he saw there, I hope to never have to find out. But it was enough to totally scatter his wits.
I don't know how I was able to get him back into his SCUBA equipment, but eventually, we found ourselves back at the Jeep. I can only suspect that his extensive training allowed him to make it back without actually being in control of his faculties. Fortunately he didn't have to drive. I just didn't know how I was going to explain everything to his wife when I dropped him off.

Posted by GEBIV at
08:54 PM
|
Comments (2)